About Leigh Rubin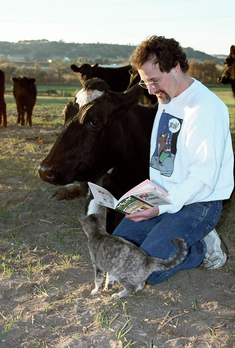 Leigh reading to Buttercup
Leigh began his cartooning career in 1978 by establishing his own greeting card company, Rubes Publications. His first cartoon collection, the popular Notable Quotes musical cartoons, was published in 1981.
2018 marks the 34th anniversary of Leigh's daily cartoon, Rubes®, which is now, distributed by Creators Syndicate to more than 400 newspapers and media outlets worldwide.
Leigh also enjoys a busy schedule giving thought-provoking and entertaining cartoon presentations at conferences, as well as professional organizations all around the country.