Rochester Institute of Technology's
first Cartoonist-in Residence
( click images for larger views )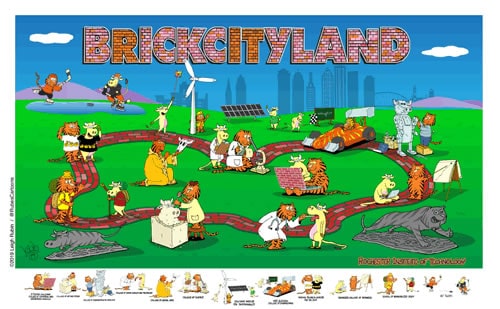 Leigh's first visit as the Cartoonist-in Residence was in November of 2018 where he lectured and taught classes on creativity, imagination as well as addressing the business aspects of cartooning, branding and syndication.
Rochester Institute of Technology and the Rochester Democrat and Chronicle also hosted the East Coast premiere of Drawing Inspiration, a docu-reality series which celebrates creativity, inspiration and innovation he co-created with filmmaker and special effects fabricator Ryan Johnson to a packed house on the RIT campus.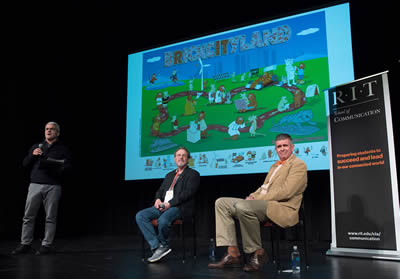 In April, 2019 Leigh spent another week on the RIT campus and in addition to teaching classes he took part in a public discussion with RIT Senior Lecturer Mike Johansson on Curiosity & Creativity.
The week was capped off by the unveiling of Leigh's BrickCityLand mural during the opening of RIT's Imagine RIT: Creativity and Innovation Festival, a campus-wide, open to-the public event that showcases the creative and innovative spirit of RIT students, faculty and staff.
For more articles and photos on the Imagine RIT Festival see Leigh's News Page.
Leigh will be returning to Rochester Institute of Technology in October 2019 for the Brick City Homecoming and Family Weekend, and annual tradition to celebrate alumni, students, parents and families, faculty, staff and friends of the University.